discography - These Ghosts Have Bones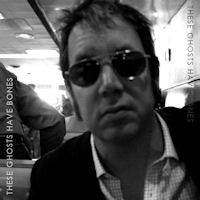 (not official cover art)
These Ghosts Have Bones
These Ghosts Have Bones is both the name of Miles Zuniga's solo project and the name of his debut album.
Miles entered the studio in later summer/early fall 2010 to begin recording his first solo effort. In order to fund the project, Miles sought the aid of donations in addition to his own funds to be able to buy as much studio, mixing, and mastering time as possible. Miles used the website Kickstarter.com for the funding donations, with a goal of raising $20,000 in 30 days. With numerous donations from friends, family, fans, and supporters Miles' goal was met and exceeded in only 10 days. At the end of the 30 days, a total of $27,355 had been donated toward the project.
On 10/2/2010, Miles challenged that if he could make his goal by the morning of 10/8 that he would write a song for his backers using words suggested by them. His goal was met just one day later, and on 10/8 he posted "The Words Song" on his account page for the backers to hear. On 11/8, the album's thirteen song track list was posted online, in no particular order.
Album Track List (no order yet):

Marfa Moonlight
One Day Closer To You
Working On A Love Song
You Can't Break My Heart
Now She's Just A Shadow
Hopelessly Blue
Junkie Hands
Elizabeth
Rock Paper Scissors
The Weatherman
Wicked
Feel It In Your Kiss
Hundred Dollar Bill
Known songs being recorded during sessions for this project:

Working On A Love Song
Lyrics from FB demo can be found here, Miles has altered them slightly from this.
With Brian Beken on mandolin

The Weatherman
"All of the bees have gone. Let's sit and count the stars falling out of the sky."
With Kat Edmonson on backing/harmony vocals, Brian Beken on fiddle

Wicked - about a femme fatale
"I know you think that she is good for you. I know you think that you can trust her too."

Elizabeth
"Every little word you say, is fallin' on me just like rain. Even though I want to stay, I don't know if I can take the pain. Elizabeth, I just let you fade. The dream that we shared, it belonged to yesterday. I don't know how to get back home. I don't know how to carry on."

Junkie Hands
With Brian Beken on fiddle

One Day Closer To You
"Thursday, Friday, sitting on the runway. One day closer to you."

Marfa Moonlight
Piano track, the original version featured as part of his Kickstarter promo video.

"The Words Song" - using supporters' word suggestions
"The centaur was walkin' 'round, drinking an anchor-stine, down in New Orleans. He was shoppin' at the Wool and Bean, and the Cellar Door. The dragon-like Lennon, that cheeky dodger's so splendid and nattily attired. A politician for your desires with his bedroom eyes. We are the empire builders. We are the jingle writers. The old woman she says hush, that there's no rush. It was snowing in Memphis, the Bronx Bombers they lent us their towncar for the night. Turn on your mercy lights, they shine so bright. Simplicity. Loyalty. Superfluous royalty, like a brown eyed butterfly. I feign an interest in your necktie. I drink my daiquiri. We are the empire builders. We are the jingle writers. The old woman keeps saying hush, hey there's no rush."
Possible songs being recorded:
I Feel It In Your Kiss
100 Dollar Bill
Hopelessly Blue

Kickstarter Donation Tiered Rewards:
$10+: digital album download, ltd. ed. TGHB guitar pick
$25+: all prior rewards, plus a signed pre-release album copy
$60+: all prior rewards, plus a second disc of TGHB demos and outtakes
$125+: all prior rewards, plus another disc of Fastball Little White Lies demos and outtakes, plus e-mailed studio journal updates
$250+: all prior rewards, plus Miles would record any song requested and upload a performance of it to Youtube
$500+: all rewards through $125 level, plus Miles would write a song for you, about you or any topic requested. He would send a DVD of the performance and/or upload it to Youtube. If he liked the song it might have been included on the album.
$1,500+: all rewards through $125 level, plus a 2-hour songwriting session with Miles in Austin or via webchat. If he liked the song it might have been included on the album or you could record it.
$2,500+: any/all of the prior rewards, plus received credit as an Executive Producer on the album